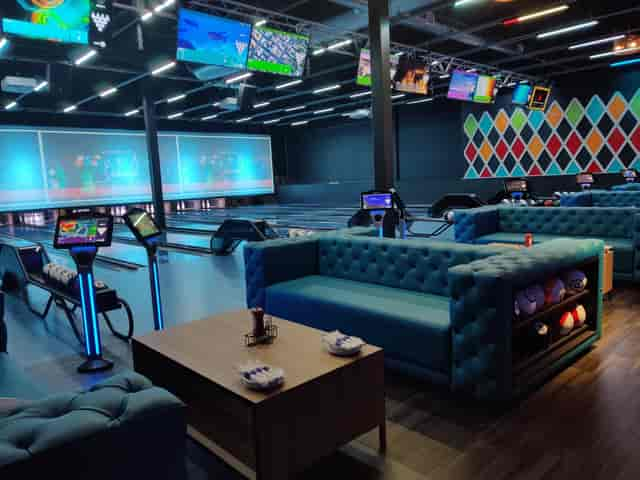 Bowl
Bowling at PINZ
Locations available:
All

We have the best bowling around for all ages and skill levels - whether you want to grab a few frames with some friends, unwind after work, or plan an all-out celebration for groups of any size. You don't just go bowling here at PiNZ. You celebrate every frame - take in the lights, the music, the food and the drinks. We deliver an exceptional experience combining friends, family, and friendly competition.

Every lane has its own seating area and comfortable couches where you can relax, eat, drink or just sit back and enjoy the action. You can enjoy your favorite drinks and craft brews from our full bar, order from the delicious menu, or just enjoy some appetizers. Listen to our carefully curated music selection paired with visually stunning music videos. Here, it's all about having fun with everyone. We have ball ramps for children of all ages, and our lanes are all handicap-accessible. We've even got lane bumpers if you need them (we don't judge).
Walk-In Bowling Rates
Per game, per person. Up to 6 guests per lane.
Before 6:00 pm
Monday-Friday $5
Saturday-Sunday $6
Shoe Rentals $3.95 + tax
After 6:00 pm
Sunday-Thursday $6
Friday-Saturday $7
Shoe Rentals $3.95 + tax
VIP Lane Reservations
Our VIP lane reservation rates are a great way to bypass any waitlist and guarantee lanes together for the specific time you've secured. Each lane can accommodate up to 6 bowlers and the hourly fee does not include shoe rentals.

The full non-refundable payment is due at the time of booking. Any weekend reservation must be made prior to 4:00 pm that Friday. Please call your desired location and ask to speak with a PiNZ Event Coordinator.
Our Locations
We can't wait to see you! Find your local PiNZ today!